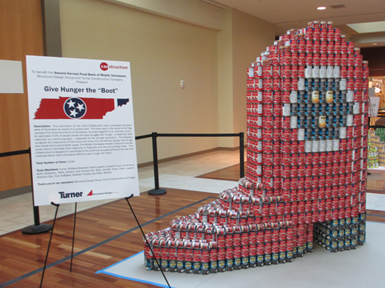 21 Apr

SDG PARTICIPATES IN 2014 CANstruction EVENT TO SUPPORT SECOND HARVEST FOOD BANK

SDG was well represented at the CANstruction event to support Second Harvest Food Bank. Our structure, titled "Give Hunger the Boot" won two awards – Structural Ingenuity and Juror's Favorite. Our team donated 2,300 cans to Second Harvest (the boot is 7 feet tall). The structures were on display at Cool Springs Galleria.

Additional winners were the "sandwich" for Best Use of Labels and "Yum" won the award for Best Meal.